Finest Flavours from Europe
Right Into Your Supermarket
---

Start with the best in Veal, Turkey & Beef
A good start to the day is a tasty breakfast. Euro Gourmet's halal breakfast slices make this possible every single day. This complete range of halal products meets the most demanding tastes and expectations. Because they are made using the best ingredients and because there is a wide range of products to choose from. Besides turkey breakfast slices, we also offer beef and veal breakfast slices. Traditional and crispy meat products for daily use in the kitchen. They can be prepared in many different ways and are supplied in handy portion packs. These premium products are halal certified by recognised Halal offices. Since animal welfare is important to us, we buy our meat from carefully selected producers. In short: sublime taste is guaranteed in every way.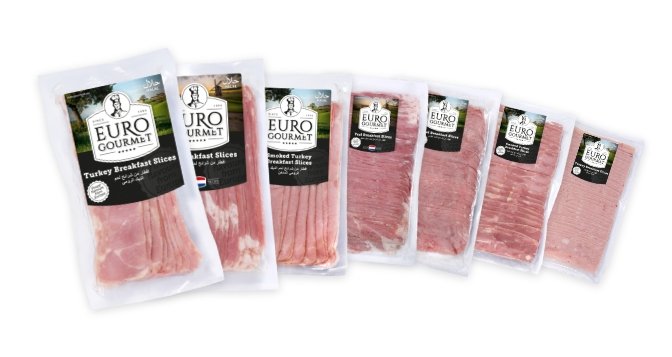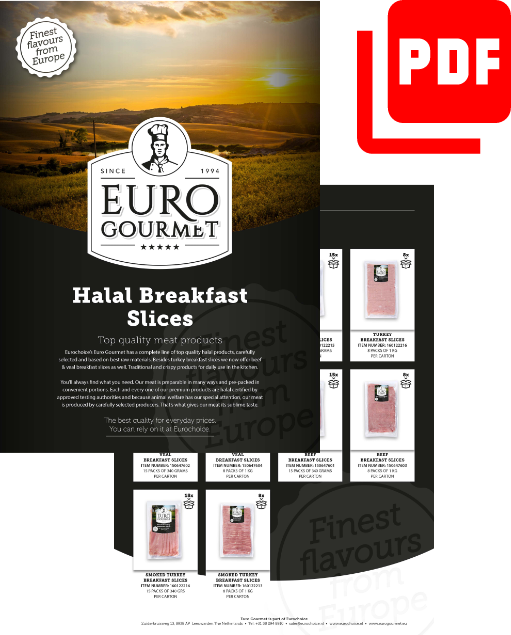 Download the entire range

From smoked to grilled and nicely spiced
Chicken or turkey, beef or veal... all our meats are authentically prepared by skilled professionals in order to produce specialities. The traditional methods we use include seasoning, grilling or smoking the meat. Yes, our European specialities are mouth-wateringly delicious. Euro Gourmet offers a wide range of specialities so you have plenty to taste and discover. Of course, halal sliced meat is delicious in a sandwich, but that's just the start of your culinary journey with us. These meat products can be used in many different ways in the kitchen. Dishes, salads and snacks can all be enhanced with halal sliced meat. And, since it is halal certified and we pay attention to animal welfare, you can sell and recommend it to your customers with peace of mind.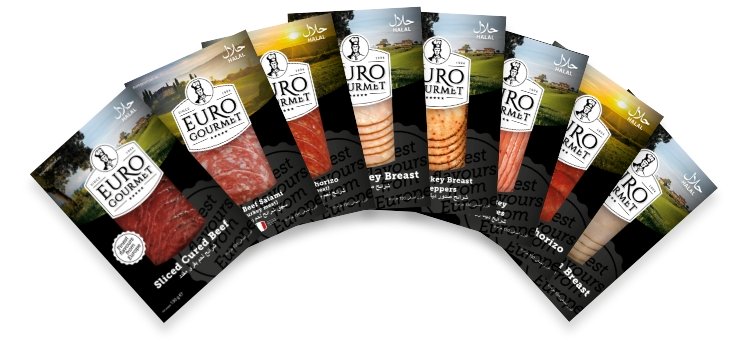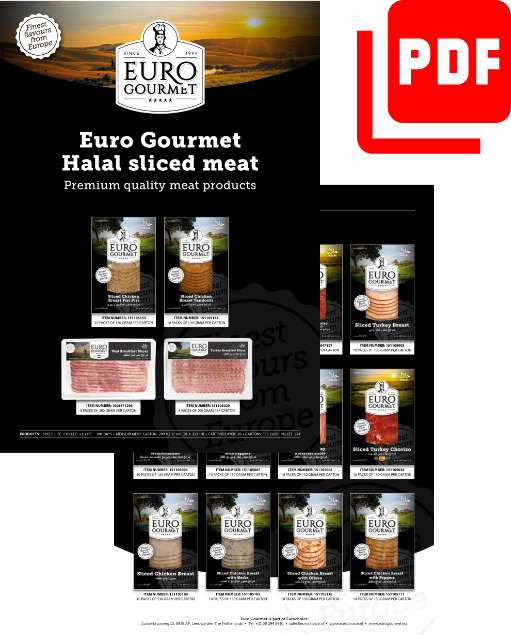 Download the entire range

Special import for your Western customers
There are many different flavours and cultures to discover. But what is not different anywhere in the world is that everyone wants satisfied customers. And if those customers fancy a fried egg with tender ham or fried bacon, you can make it all possible with Euro Gourmet. We offer a complete range of bacon and ham: smoked or unsmoked, always authentically prepared and supplied in handy portion packs. Bacon and ham can be prepared in many ways and used in Western cuisine. Of course, not all of those products are halal. Nevertheless, you can rest assured that these products are made from the best ingredients. We also select our bacon and ham producers with care and focus on animal welfare. This guarantees a sublime taste.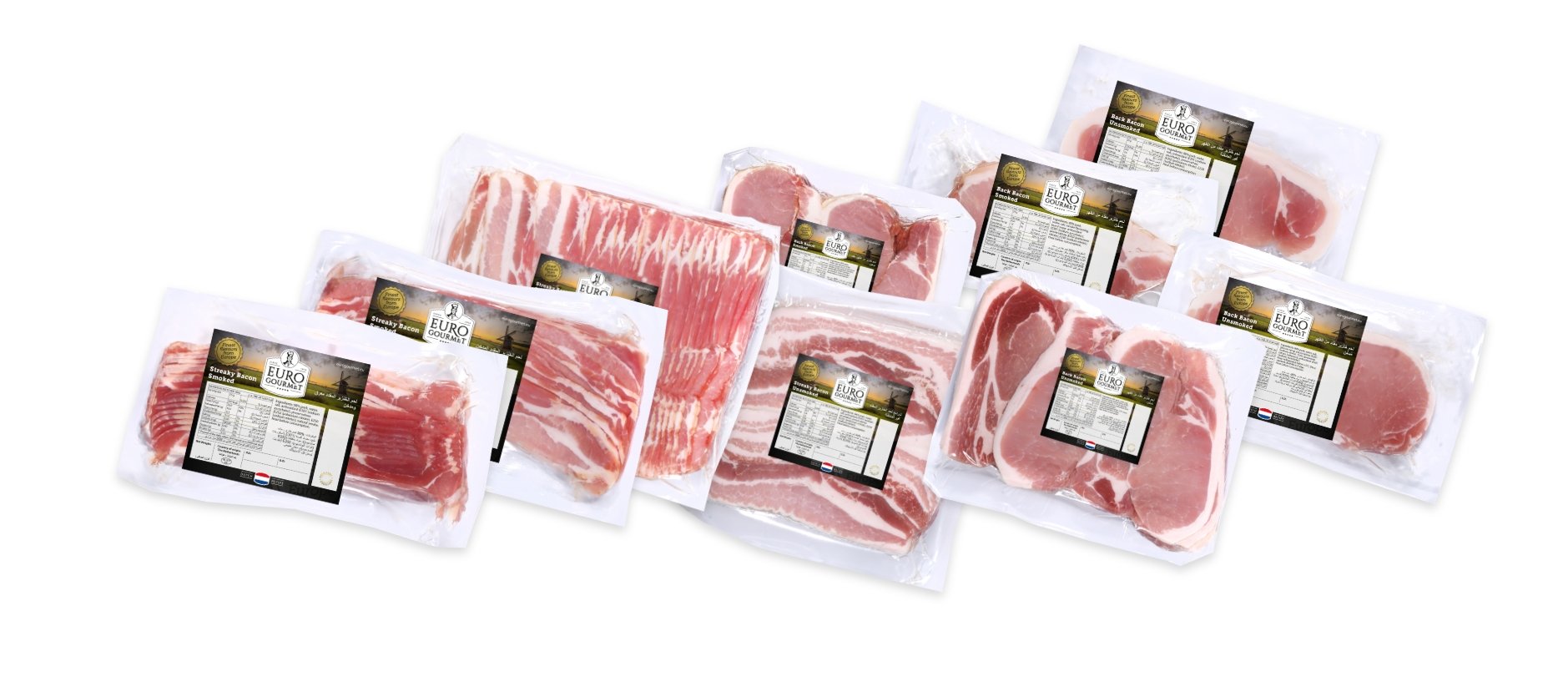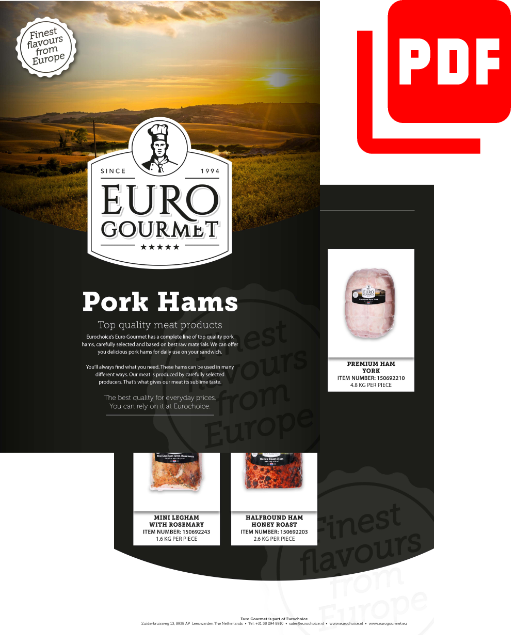 Download the entire range

From the Netherlands to Greece
Whoever thinks cheese, thinks Europe. The Dutch, Danish, French, Italians, Austrians, Germans, British and Greeks all love eating cheese. So it's no coincidence that the most delicious types of cheese are made in those countries. From Gouda to Mozzarella, and from Edam to Cheddar. The types of cheese available really are limitless. Out of all of the different types, Eurochoice's food experts have selected the most popular cheeses. The cheeses are presented and sold to you under the Euro Gourmet label. Available in blocks, slices and as ground cheese, they are deal for many purposes in professional kitchens and home kitchens alike. The high-quality cheeses are manufactured by carefully selected cheese producers. Taste and quality are therefore guaranteed.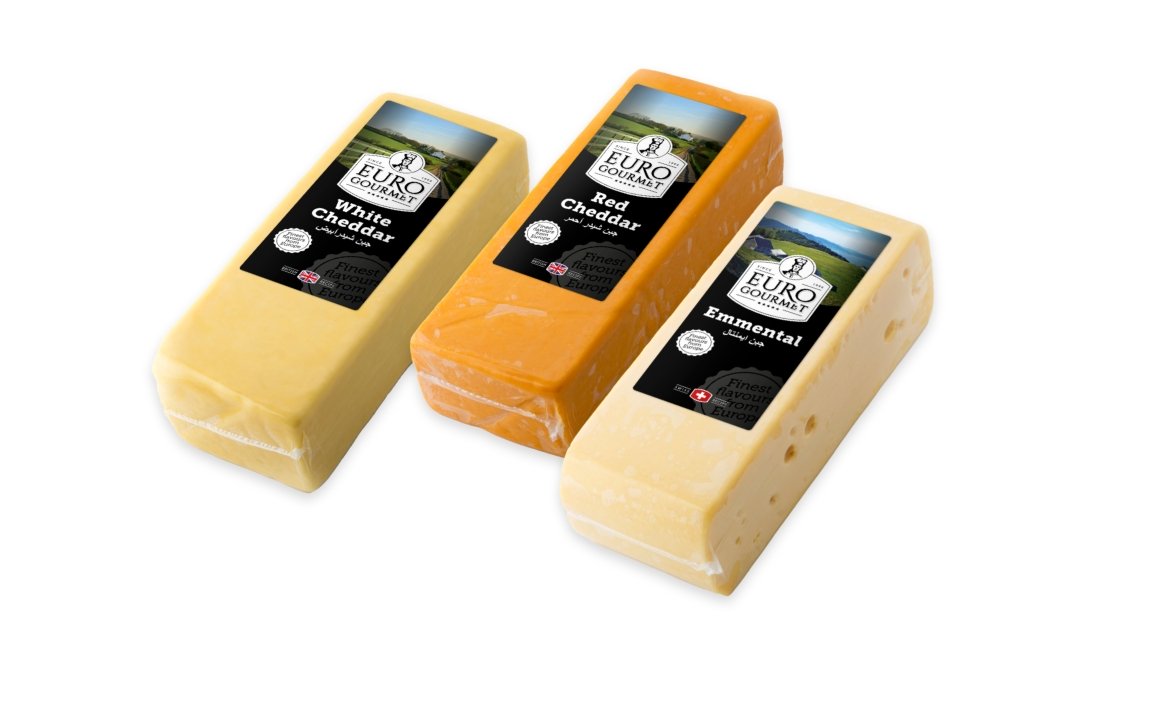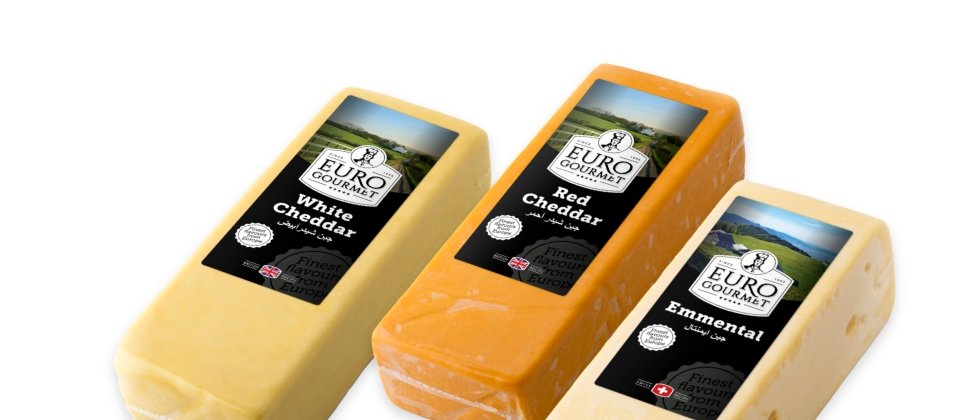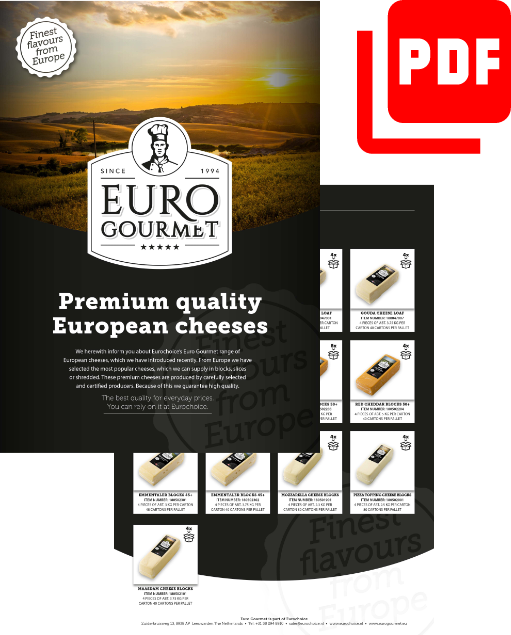 Download the entire range

The finishing touch in taste
Pickles, Spices and Sauces
Eurochoice likes to dot the i's and cross the t's by offering high-quality service, advice and a broad range of flavours. The Euro Gourmet range has been significantly expanded to include gherkins, spices and sauces. This helps us meet the requirements of professional customers who want to give their dishes a specific flavour twist or finishing touch in terms of appearance. We have selected and found a number of top producers who are willing to produce gherkins, spices and sauces according to our standards and requirements. This enables us to guarantee the highest quality in this area.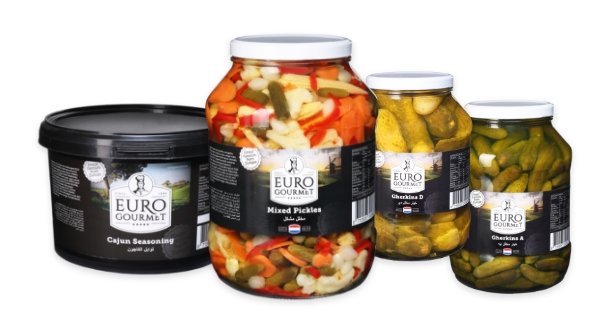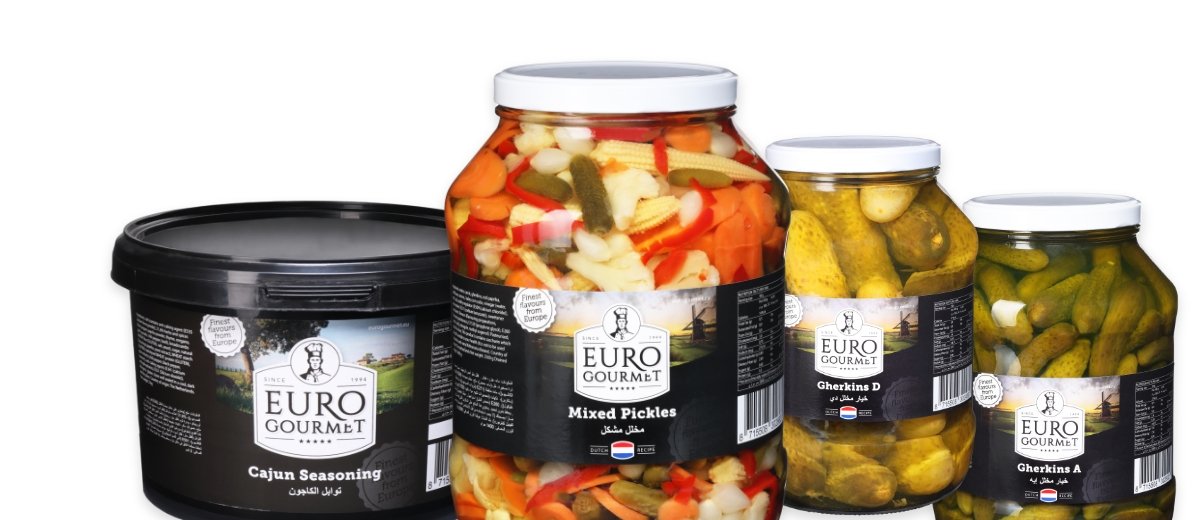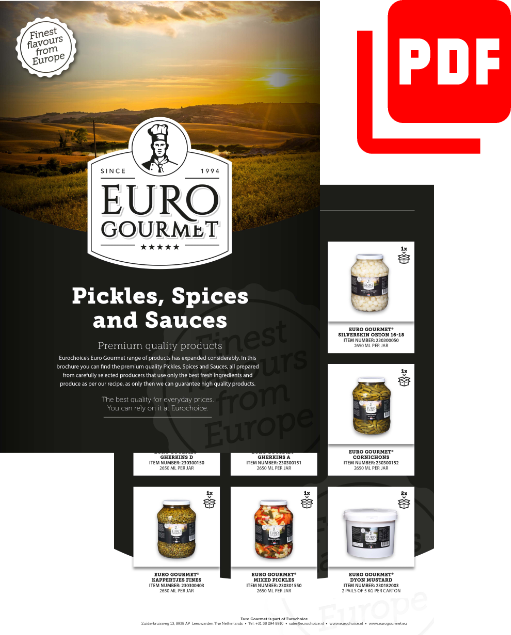 Download the entire range